Northside Collision
Auto Body and Collision Repair
SYRACUSE, NEW YORK
Through consistent dedication to service and attention to detail, we provide the best collision repair in Central New York, hands down.
---
OUR PRIORITY Continues to be KEEPING OUR CUSTOMERS, EMPLOYEES, AND CNY COMMUNITIES SAFE AND on the Road.
If you feel uncomfortable dropping your car off at our shop, you are welcome to call and schedule a pick up, and we will drop off a loaner vehicle for your convenience and safety!
We're Experienced
Northside Collision's courteous office staff will work to make your auto body repair experience hassle-free. Our team of highly trained collision repair technicians work hard to ensure a high standard of workmanship.
We're Up-to-Date
Our state of the art body shop in Syracuse and collision repair facilities feature top of the line equipment featuring high safety and quality assurance standards.
Schedule an Appointment or Request a Photo Estimate from any of our Locations!
Established in 1974, Northside Collision is hiring:
Auto Body Technicians

Auto Detailers

Estimators

Front Office Staff

Apprentices
Want to work for Central New York's biggest and most respected collision repair facility?
Ready to use your experience and reputation to move ahead? Northside Collision could be the place for you to put your talents to work! In return, we offer an excellent compensation package, great benefits and tremendous opportunities for advancement. We periodically have positions available virtually in every department – from office positions to body shop opportunities.
Collision Repair
& Auto Body SERVICES
Collision Services
You've found Syracuse's largest repair shop with over 42 years of experience!
Loaners & Rentals
We have a full array of rental and loaner cars are available to keep you on the road while your car is serviced!
Truck Repair
We are one quick, easy, and reliable source for all your trailer and truck repair needs.
EMERGENCY CHECKLIST
Northside Collision wants to ensure that you are always prepared for a roadside emergency!
FLEET REPAIRS
We are the fastest, hassle-free, and reliable source for any and all of your fleet repair needs.
Mechanical Repairs
We offer mechanical repairs, fiberglass, aluminum and metal repairs as well.
Before & After
The first image is the "before" photo.
Click or swipe to see the "after" photo.
the official collision repair provider of Syracuse Sports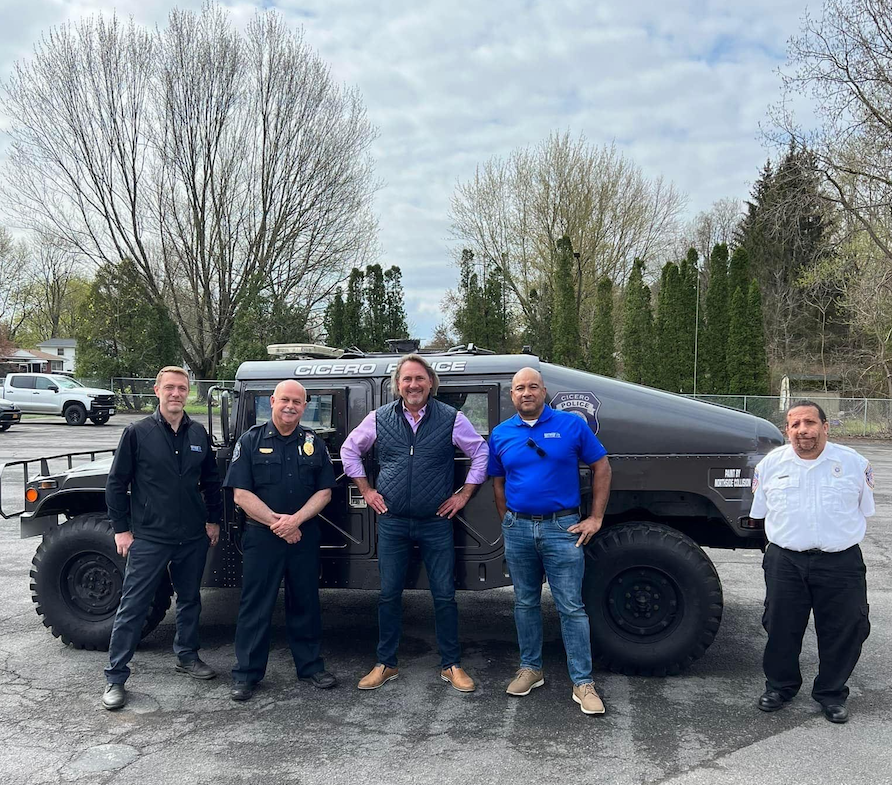 Northside Collision Cares About Our Community
From the Cicero, NY Police Department:
"Cicero PD wants to thank Northside Collision for the donation of painting our new Hummer vehicle that was obtained for free from the military 1033 program. The hummer labeled as vehicle "H1" will primarily be used at public relation events such as open houses and parades but could also be used at emergencies or serious weather events where it's use could be beneficial."
"The Best Collision Repair in Central New York!"
"I've had 2 separate cars fixed and your body shop in Camillus. Both jobs were superb and completed on time (as promised). Service was prompt, friendly, and professional. Our cars look better than they did as new, from your expertise body shop employees. I would highly recommend Northside Collision to anyone else. Keep up the good work!"
"Repairs made at your Northside Collision Cicero location. Overall your staff is informative, courteous and efficient. A pleasure to work with especially Mr. Barnes who is honest and accountable!"
"I was recently at your shop for repairs on my Nissan Rogue 2009 model and your people were terrific, from Geico representative Tracy Jorgensen to Adam Sherwood and the pleasant girls at your front desk. They even fixed my drivers side door which would not open from the outside. I was at your Dewitt shop for my service and it was great. I would not hesitate to recommend your shop to anybody. Thanks for the great experience."